Thursday, 24 September 2015
Now this is quite possibly the fastest I've ever turned round a book review and I'm not even exaggerating. I finished this at 1am and not 12 hours later I've finished writing my review. But seriously y'all this *never* happens to me.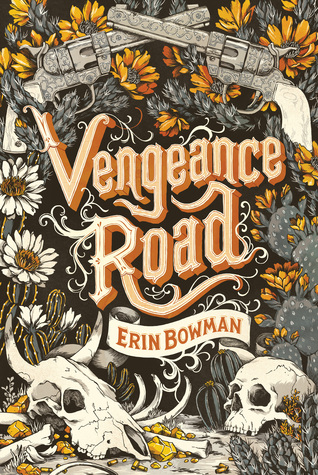 Title: Vengeance Road
Author: Erin Bowman
Release Date: 1st September 2015 (US)
Source: Bought
Synopsis:
"Revenge is worth its weight in gold.

When her father is murdered for a journal revealing the location of a hidden gold mine, eighteen-year-old Kate Thompson disguises herself as a boy and takes to the gritty plains looking for answers—and justice. What she finds are untrustworthy strangers, endless dust and heat, and a surprising band of allies, among them a young Apache girl and a pair of stubborn brothers who refuse to quit riding in her shadow. But as Kate gets closer to the secrets about her family, a startling truth becomes clear: some men will stop at nothing to get their hands on gold, and Kate's quest for revenge may prove fatal." (From Goodreads)
I heard about this book via Susan Dennard and also when Erin had a spot in Sooz's Misfits & Daydreamers newsletter talking about morally ambiguous characters. A YA western novel is something I have never seen before and the idea of characters with grey morals and suspicious intentions was so interesting to me. Since I was coming to the US not long after it was released I made sure to put Vengeance Road on the list of books I needed to buy.
First of all, how gorgeous is this book cover? It's so perfect for the story and wonderfully eye-catching. The hardcover also has deckled page edges which I *adore*. If you weren't already looking for it, the cover would definitely make you stop and take a look at the blurb.
One of the things that I loved most about Vengeance Road was our main character Kate. Her determination, her stubbornness, her scorching fury and most of all her voice. Ye gods this book had a voice that you'll be hearing for DAYS after you finish. It's written in first person present, in a dialect that quite literally twangs off the page from the very start. Never have I had such a strong urge to read a book aloud with the best accent I could muster to replicate the version of Kate I had in my head telling me her story.
Kate's world is so harsh and brutal, people are fuelled by hate and fear with no qualms about killing innocents in order to get what they want. So when Kate's father is horrifically murdered out of the blue there's no one she can turn to for help. Her first instinct is to disguise herself as a boy, grab her Colt pistol and her Winchester rifle and start hunting down the bastards who killed her Pa. She's prepared to do whatever it takes to get revenge and sure as hell ain't gonna let anyone stop her.
I loved just how blisteringly angry Kate was for much of the book. Her rage drove her to do some pretty questionable things I'll grant you, but under all that roiling darkness is the glimmer of person who still has a line, a limit to what they will or won't do. Kate is so fascinating in that respect and I reckon we need more heroines like her in YA fiction.
The historical aspect of the story is rooted in the Goldrush fever of the late 19th century where prospectors risked everything on the hope of finding a vein of gold to make them rich. But as you see throughout Vengeance Road, Gold makes monsters out of men. There's also the unflinching portrayal of the relations between the white prospectors and the Apache natives who lived in the region at that time. You wince at reading how other characters react to Liluye, the Apache girl who Kate rescues. She is just one person but people treat her as if she were responsible for the actions of all of her people. Sadly that kind of prejudice endures and festers through history until its corruption taints even the present day.
It's a harsh gritty world that Erin has brought to life and a scorching adventure that somehow feels longer than its 300 pages, with sudden twists that have you scrambling to stay in the saddle. Kate is a gripping heroine and I could very easily read three more books of her exploits in that gloriously distinctive voice of hers. Can you tell I'm a fan of it yet?
So if you're in the mood for a gun-toting gal, hell-bent on revenge charging through the blazing Arizona landscape with murder on her mind, then I think you need to meet Kate Thompson in Vengeance Road.
My Rating: 4 out of 5 Stars
Well what do you think? Interested in Vengeance Road? Have you read it already? I'd love to know what you thought about it. :D
A little side-note that made me chuckle - this book takes place in 1877 and at one point a character is mentioned as having traveled west from Philadelphia. I couldn't help imagining that she left because of all that trouble with the dead walking around not long before :P (Folk who've read Something Strange & Deadly ought to get what I'm on about).
Anyways, I hope you enjoyed this review if you're not still reeling from the fact that I've posted two reviews in one week after at least two YEARS with none.